Description
Remove 10-15 chicks per layer, each week
Details
This stackable, power-washable brooding house ensures your birds grow up in the cleanest home out there! The grow up unit perfects the feeding and watering processes, ensures perfect temperatures within and keeps your birds clean with technologically advanced features.
To prevent disease, rust-proof materials are used in unison with elliptical flooring, curved edges, and a closed drinking system. This automatic brooder is perfect for raising quail, chickens, pheasants, fowl, ducks, turkeys, geese, partridge or other gamebirds. Recommended for hatcheries, nurseries, poultry scientists, agriculturists, breeders, hobbyists, urban farmers and commercial farmers.
Key features
Removable manure tray

Smart feeder with feed loss grills

2.1 gallon, automatic drinker system

Chick floor mats on non-woven floor

20" space heater - "set & forget"

Energy-efficient, enclosed design

Stackable tier design
More features
Removable starter feeders: 3

Removable starter drinkers: 2

Lockable wheels

Improved door locking system

Rust-proof floor vs galvanized wire

Rust-proof, aluminum frame

Injury-free, housing structure

Flat-pack design for transportation

Easy assembly with modular tiers

Requires E 27 bulb | not included 
Dimensions and weight
Unit: L 38.6" x W 25.2" x H 28.7"
Inside layer:

L 35.8" x W 19.3" x H 15"

Box: L 39" x W 24" x H 6"

Weight: 38 lbs
Key features explained...
Manure tray is deep to collect droppings below the cage. The tray slides in and out with ease to make washing and cleaning, easy.
Prevent disease by having a system that removes harmful substances, like bacteria, from your chick's living space.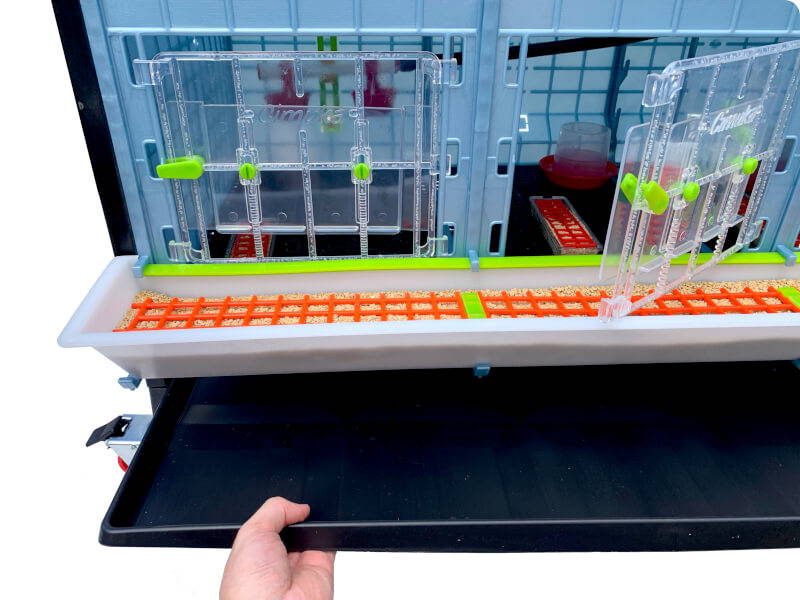 Shock-proof, red grills lay on top of the removable, 6.5 lb. capacity, feeding trough to reduce loss, inside and outside of the brooder. Customers claim to save 30% more feed with the flexible, shock-proof grill.
Includes (3) removable starter feeders.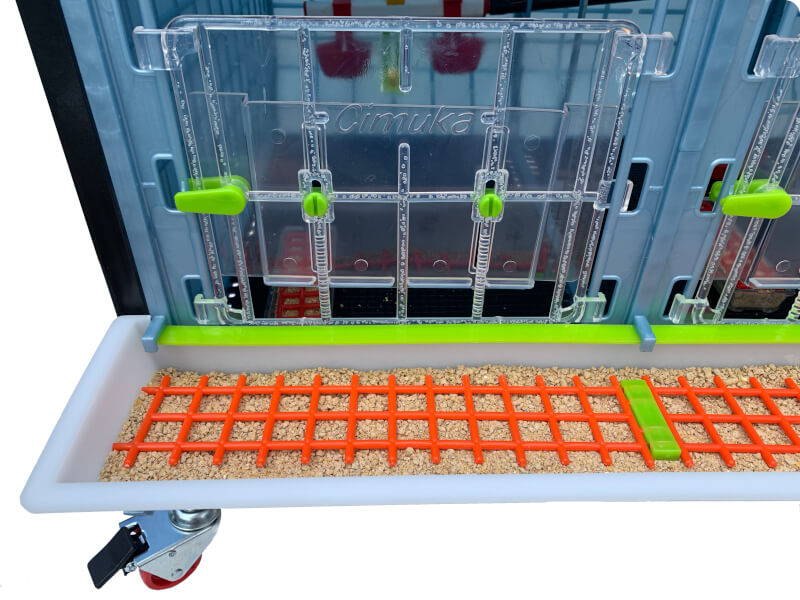 Reduce bird wetting with height-adjustable, spill-proof drinker cups. Prevent disease with an anti-algae, silicone hose system. The seamless system receives filtered water from a refillable, 2.1 gallon tank above. The closed system reduces humidity and promotes clean brooding.
Includes (2) removable starter drinkers.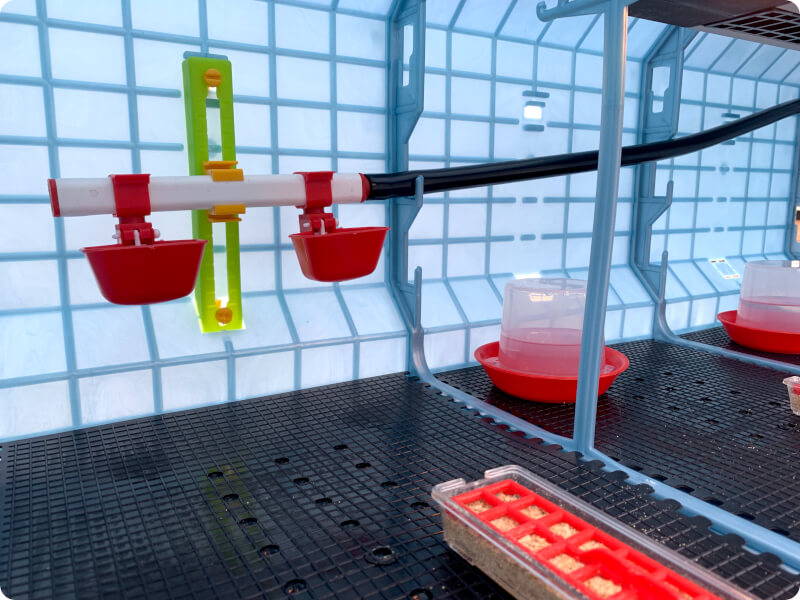 "Set & forget" the thermostat in this 20" space heater from 32°F - 104°F. Simply choose the perfect temperature and keep it there forever! Grates below the stainless steel heat lamp prevent chicks from burning.
Includes (1) heater: 125 W, 110V, 32°F - 104°F / 0 - 40°C.
Note: (1) E26 bulb is not included, for safe shipping!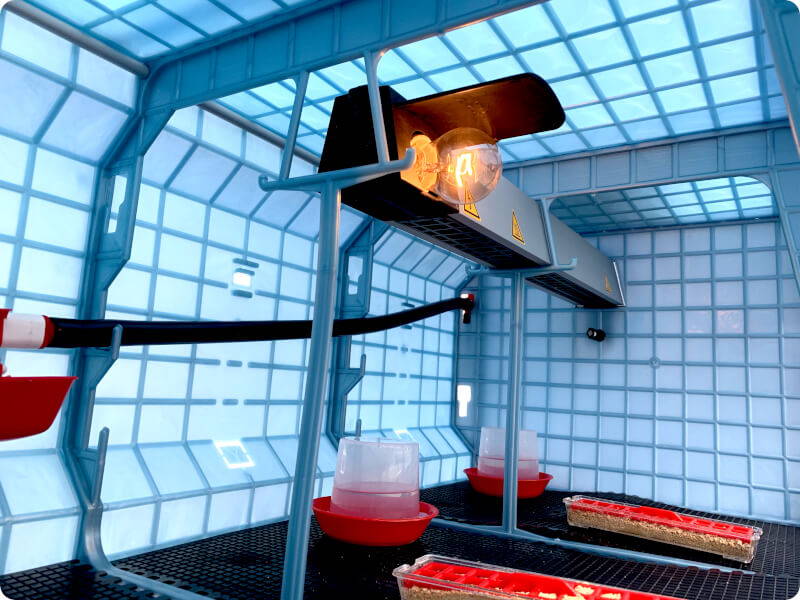 Enclosed, semi-transparent walls insulate heat, from the stainless steel space heater, to reduce cost and save energy.
The enclosed design keeps your chicks at the perfect temperature while letting in the optimal amount of sunlight and airflow.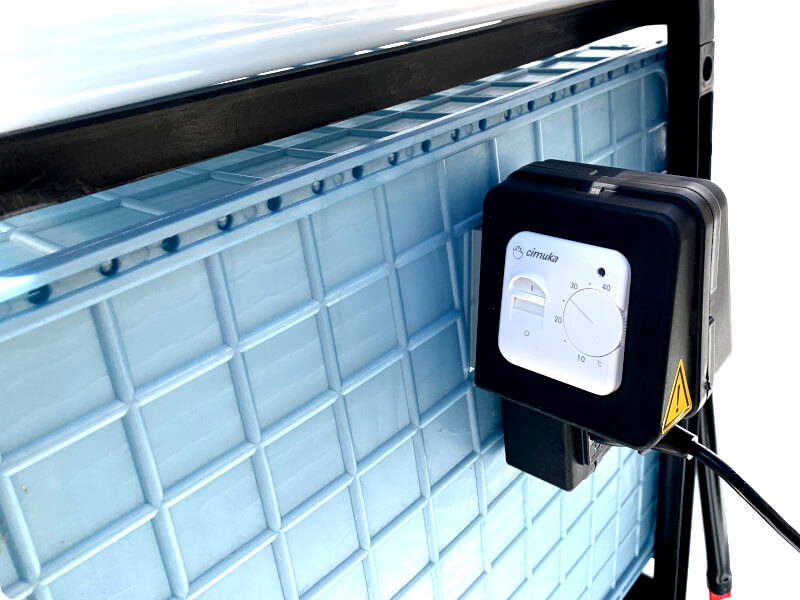 Cimuka brooders and cages are designed to be stacked and mix-&-matched. Easily add cage layers click here above your brooding layers and vice-versa, to create a custom tiered experience.
Rust-proof materials, side struts and butterfly locks are used to create a stable, durable, long-lasting broiler house that can be power-washed.
Need a bigger size? Check out the Chick Brooder - 2 Layer H: 15" here or view our large collection of brooders here.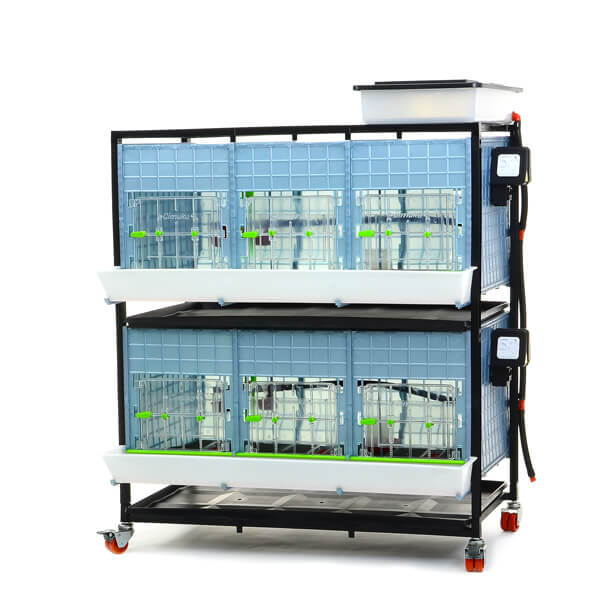 Assembly Video (CB40-03-1K)