Description
Power-washable & rust-proof chick brooder is perfect for quail, pheasant, partridge, or smaller game birds. For the taller version, click here. This unit will ensure your birds stay warm 24/7 with a temperature-adjustable 20" space heater. To prevent bird wetting, closed nipple drinkers receive clean, algae-free water from the water tank above. To remove waste efficiency, there is a deep manure trays. To prevent foot problems during the first 2 week, chick mats are included to make walking easier. Red feed grill covers for the feeding troughs are included to eliminate the flinging of feed, thus saving money. Recommended for teachers, homesteaders, hobbyists, breeders and urban farmers.
Getting Started: For the first 2 week, use the starter drinker, chick floor mats, and starter feeders. Also, ensure the external white feed grill cover is in the "closed position". After 2 weeks, remove the starter drinker, chick floor mats, and starter feeders. Next, flip white feed grill cover to "open position" and fill up the feeding trough. Lastly, fill up 1 gallon water tank.
Highlighted capacities indicate the max number of weeks heat is required
Requires: (1) lightbulb - sold separately
Dimensions / Weight
- Unit: L 24.4" x W 28.4" x H 19.7"
- Floor Space: L 17.3" x W 23.8"
- Interior Height: 9.5"
- Box: L 39" x W 20.5" x H 5.5"
- Weight: 20 lb.
Deep manure tray collects droppings below the brooder. Prevent disease by having a system that removes harmful substances, like bacteria, from your chick's living space.
Includes (1) deep manure tray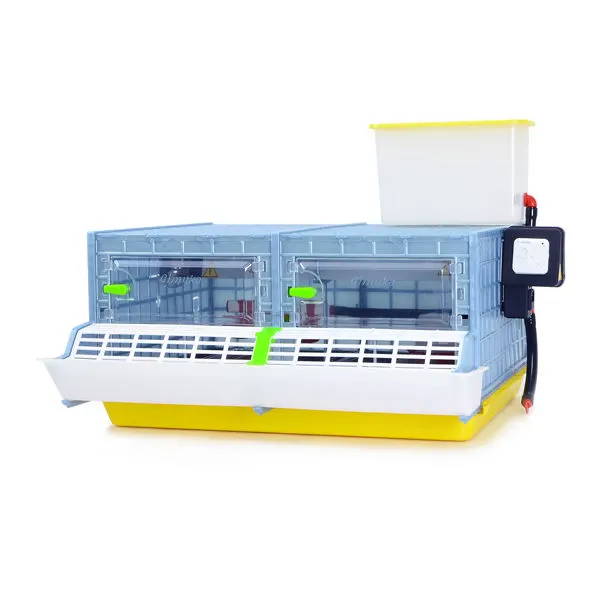 Shock-proof, red grills lay on feed to reduce feed loss, thus saving money. Customers claim to save 30% more feed with the flexible, shock-proof grills. White feed grill covers should be flipped, open or closed, depending on age of chicks. The image below is in the "open position".
Includes (2) removable starter feeders
Reduce bird wetting with height-adjustable, spill-proof drinker cups. Prevent disease with an anti-algae hose system. The seamless drinking system receives filtered water from a refillable, 1 gallon tank above. The closed system reduces humidity and promotes clean brooding.
Includes (1) removable starter drinker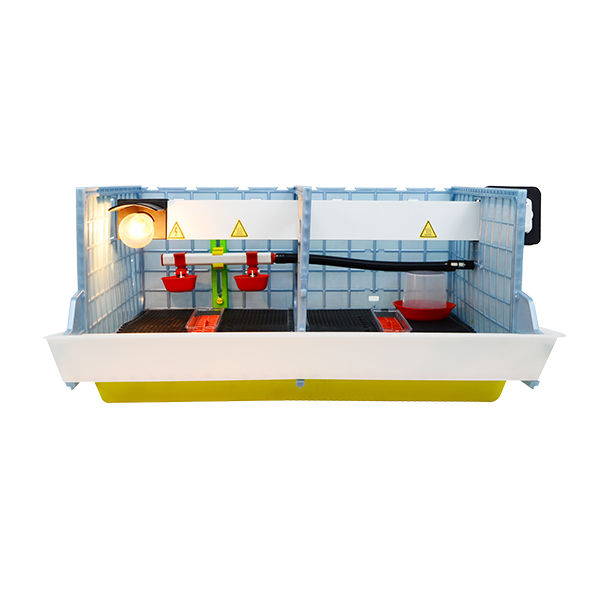 Anti-bacterial, non-slip chick floor mats sit on non-woven floors to make walking and standing easier. This ease prevents foot and nail problems during an early age. Second, chick floor mats insulate heat to keep your chicks warm and comfortable during the first few weeks.
Includes (2) chick floor mats
20" Space heater with adjustable thermostat runs allow the ceiling and provides optimal temperatures 24/7. To further promote a comfortable and safe home, heat resistant grates prevent jumping chicks from burning themselves. Note: Lightbulb used for light only (not included)
Includes (1) space heater: 32°F - 104°F / 0 - 40°C, 125 W, 110V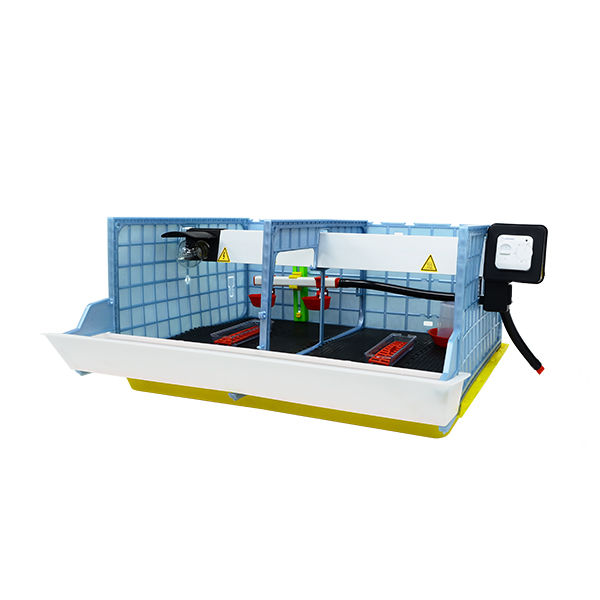 Enclosed, semi-transparent walls insulate heat, from the (1) stainless steel space heater, to reduce cost and save energy. The enclosed design keeps your chicks at the perfect temperature while letting in the optimal amount of sunlight and airflow.